Garage Door Repair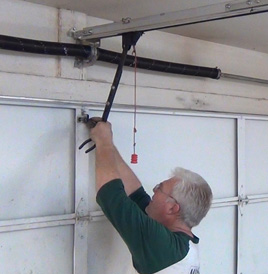 We can fix garage doors in Roslyn for a cheap price!
It is not too difficult to repair a garage door if you know exactly how it operates and how each of its components works. However, this means many years of repairing and installing garage doors. This is why amateurs should never tinker with a garage door. Not only can they damage it – or some of its components – but they might also injure themselves. Never underestimate the power of torsion and extension springs. And never underestimate the weight of a steel garage door. It's best to leave repairs to professionals. Roslyn Garage Door experts are standing ready to assist you immediately. All you have to do is give us a call and tell us more about your problem. We'll send someone over as soon as possible.
Call for more information: 516-962-5000
Experienced Garage Door Repair Company in Roslyn, NY
After we run a few tests on your door to pinpoint the cause of the problem, we will tell you everything there is to know about the faulty component and why it needs to be repaired. We will propose our solution and will implement it if you agree. Unfortunately, there are scenarios where repairing the part becomes impossible because the damage is too extensive. Worry not; we have all the tools and parts in our service trucks to replace any part of the door quickly and efficiently. Here are some of the perks of working with an amazing garage door repair company in Roslyn such as Roslyn Garage Door:
Our technicians are certified to perform complex repairs on residential, industrial and commercial garage doors. They are also fully insured to protect you from any kind of loss.

We have very affordable rates because we are a locally owned and operated company. We're not in the business to make a quick buck!

Locals trust us because they know that our customer service is unparalleled in New York.

Our solutions are covered by extensive warranties – and so are all the parts that we use to repair your door.

We are very flexible and we work Sundays as well. We offer free consultations and free price quotes.
Call To Fix Garage Doors in Roslyn, NY
To get more information about our services and about our team, get in touch with us. We would love to tell you more about how we do business in New York! We're the best for fixing garage doors in Roslyn, NY, hands down.
Call: 516-962-5000